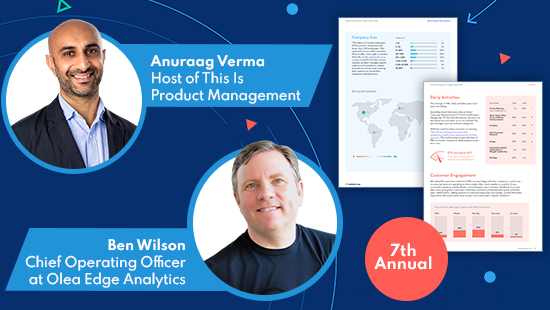 Top Takeaways from the 2021 Feedback Loop Product Management Insights Report
Over the past 12 months virtually all of us lived through dramatic change, personally and professionally. We've adjusted the way we do business and live our lives. In our seventh annual Product Management Insights Report, Feedback Loop took the opportunity to understand how product managers have responded to the disruption and identified rising trends.
We surveyed over 500 full-time product managers and leaders, and came out with rich data to present our findings to the public, our customers, and listeners of our industry-leading podcast, This Is Product Management (TIPM).

Watch Anuraag Verma, host of TIPM and Ben Wilson, COO at Olea Edge Analytics, present our top findings!
Access your on-demand recording below.
You will learn:
How PMs view their existing resources, and are dealing with the anticipated evolution of the product management practice
Find out how working with a "Board of Consumers" will help product teams build better products and reach your business goals
Where your colleagues are landing professionally and how their responsibilities have changed
Where your peers are getting their ideas and inspiration
What forward-thinking PMs wish for in the year ahead
About Feedback Loop's 2021 Product Management Insights Report
The 2021 PMI Report provides an inside look at the past, current, and future state of product management and features data, insights, and analyses that reflect 500+ product managers' reactions, thoughts, and practices from the past year including how lock downs across the country impacted the field.